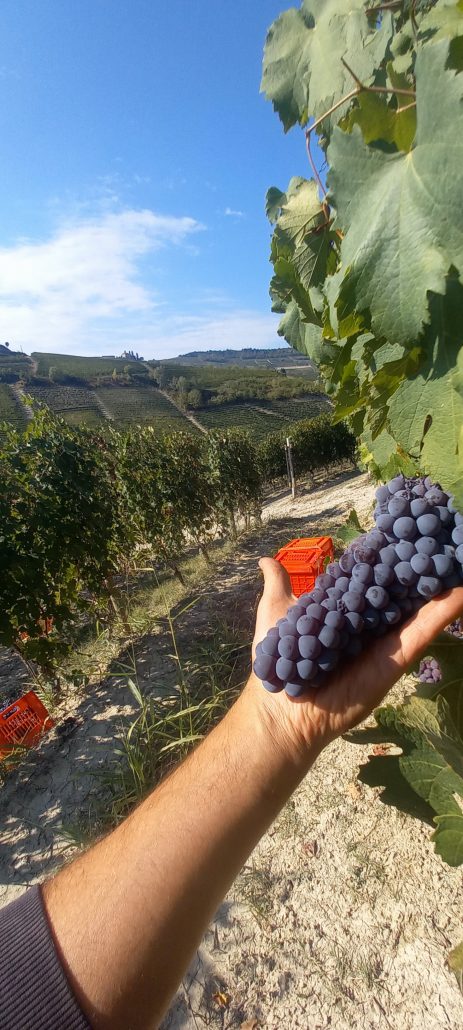 During  winter there were several snowfalls that enriched the water reserves of the soil and optimized the fertilization. The second half of winter was mild with temperatures that favored budding slightly earlier.
Spring came with an unusual frost that hit some Nebbiolo vines at the beginning of April, thus reducing part of the production. The season continued with good weather.
The summer was hot and dry, the weak rainfall in July cooled the soil and climate, avoiding water stress conditions in the vineyards. The prolonged good weather allowed us to choose the best harvest time for each variety.
Dolcetto d'Alba was harvested on September 15, the harvest was abundant and of quality as being a late-growing variety it did not suffer any damage from frost.
The Barbera was harvested in the first week of October, the grapes were very colorful and with a high sugar content. Even the higher acidity than usual suggests that we will be able to obtain a good aging wine.
The Nebbiolo suitable for Langhe Nebbiolo was the most affected by the frost, especially in the rows located further downstream. This natural selection has limited the grapes quantity but has highlighted the quality and health of the bunches present.
The Nebbiolo suitable for Barolo was harvested towards the end of October, here we have not recorded any significant frost damage due to the better exposure. Overall, there was a regular production but with a high quality. Surely the high sugar content combined with a good color and acidity will allow us to obtain very structured and long-lived wines, with a strong tannic imprint, typical of Barolo.
http://www.diegoedamianobarale.it/wp-content/uploads/2016/11/logo-barale.png
0
0
Damiano Barale
http://www.diegoedamianobarale.it/wp-content/uploads/2016/11/logo-barale.png
Damiano Barale
2022-02-10 13:10:19
2022-02-10 13:12:53
Harvest 2021